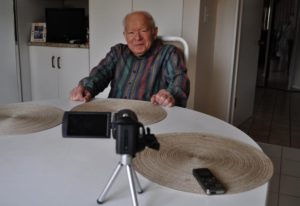 We cordially invite you to join us 12 of November at 4.30 in Zubr Cinema in Bialowieza for a screening of the film "Survivor of Białowieża" – interview with the only living Holocaust survivor from Bialowieza – David Waldshan, currently living in the USA.
During the interview before the camera, David told his story for the first time in his life. It's the only existing testimony of Białowieża coming from its Jewish inhabitant.
Film, although not suitable for young children, can be successfully viewed by young people.
On the same day at 1.00 Katarzyna Winiarska, creator of the Museum and film, invites for tour through Bialowieza in the footsteps of the Jewish community. Meeting point: Sportowa street 1.
Both events are part of a two-week event GREEN NOVEMBER organized by the Forest Residents Coalition:
https://www.facebook.com/events/1993510810929524/
The film was created by Jacek Kuron Educational Foundation and funded by Jewish Historical Institute.